Jimmy T.'s Home Page
MY HAM RADIO PAGE CLICK HERE!!!IT IS STILL IN THE DEVELOPMENT STAGE, SO BE PATIENT.
HERE IS MY WEBCAM, MAYBE. IT IS STILL IN THE DEVELOPMENT STAGE, SO BE PATIENT.
Sano Sports Personal Watercraft Traction Pads & Computer Outlet
Send Me E-mail, aka HayHauler click HERE!
---
This is my Hamdesk
As you can tell by the picture, most of the desk is filled with radios, but my wife collects Barbies, like the one on top of her monitor. The house is full of them. My radios consist of a Kenwood TS-711-a, Kenwood TS-440SAT, and an Icom IC-2000(for paket). I use a Kantronics KPC-3 TNC for my paket system. I also use a Radio Shack PRO-2036 scanner to keep track of frequencies that I cannot monitor on the other radios.



---
The small rack has been updated. It is now a full 42U rack with 2 ups units, 1 Windows 98 rack mount machine, 1 Linux RedHat8.0 machine, 8 port Linksys switch, router, cable modem, 1 Linux RedHat7.3 machine(Ham radio Packet Cluster), 12V power supply, Kenwood radio(for packet), and TNC(for packet).



---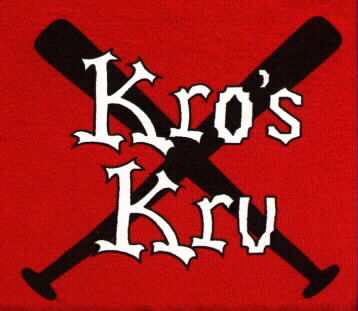 Kro's Kru T-Shirt
This is our logo for the softball team I play for on Wednesday nights, when there is no PARC meeting.
---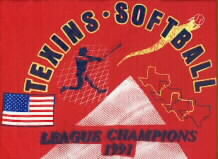 Winning Kro's Kru Shirt from 1991


---
1997 Kro's Kru Winning T-shirt


---