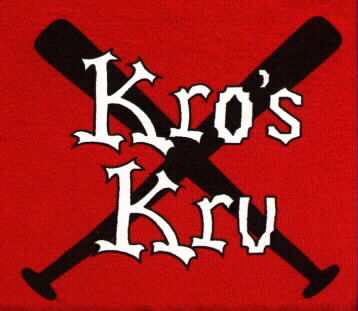 KRO'S KRU HOME PAGE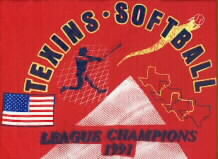 That Was Then................................... This is NOW!!!!!
THE KRU WINS FALL 2 AT TEXINS SOFTBALL!!!!!OUR NAME WILL BE SYNONYMOUS WITH THE MANGLED BABY DUCKS!!!!!
To hear the official message on the machine at the field, download the KRUWINS.WAV file!!!
I BET THE RENEGADES DON'T LIKE US ANYMORE!!!!
---
KRO'S KRU FALL-2 SCHEDULE
1. October 1 Red Field LOST 6:30 p.m.
2. October 8 Blue Field RAIN OUT WON8:30 p.m. and WON WON WON9:30 p.m.
3. October 15 Red Field WON 7:30 p.m. and WON 8:30 p.m.
4. October 22 Blue Field WON 9:30 p.m.
5. October 29 Red Field WON 8:30 p.m. and WON WON WON9:30 p.m.
6. November 5 Blue Field WON 6:30 p.m.
8. November 12 Red Field RAIN OUT 8:30 p.m. and 9:30 p.m.
9. November 19 Red Field RAIN OUT!!!9:00 p.m.
Thursday, November 6,1997
53 minutes!!!! I know this may be getting old to some of the newer followers, but you can never run rule the Renegades enough. We lined them up in our scopes and filled their backsides with Kru buckshot. (do you like the deer hunting analogy, heh?) In what has to be the most EPIC inning in Kru history (maybe we should nickname it "The Inning" and write a country and western song about it), the Kru unloaded with 15 runs in the first inning on their way to an 18-8 victory over the "pre-game talking" Renegades. In the first game, it was another slow start before finally pulling out an 11-7 victory. Yes, we had to go the distance. Props to everyone on the night for consistent hitting and solid defense. But the major PROPS have to go to two players. One is Ponytail Doug for again pitching two complete games filling in for the often injured Kowis. Second is Otto. This guy is putting the ball over LF's head anytime he wants. When he doesn't do that, he is stroking line drives elsewhere. What is in the water at the Otto abode? Attendance was ZERO. Maybe we will cut fans some slack because it was a gusty 40 degrees by the second game. Hey Kroboth, whatever trees you and your "Bambi-capping" friends passed out under the last two nights , you need to see if they have any vacancies for the next two Wednesday's. I hear their still looking for banjo players for the Deliverance sequel being filmed up and down I-10 right now. Figs did a pretty good job of sitting on his rear in his pajamas in the second game. All I know is the Kru is BLOWING UP. Oh yeah, I almost forgot math time. 6-1 plus 2 wins last night makes us 8-1. Hey Salt Lake, are you believing this???? EEEPPPIIICCC!!!!!
Wednesday, November 5,1997
OK, it wasn't a run rule but it was another solid performance by this season's edition of the Kru. After a sluggish start, the bats woke up and the defense was there and we self-propelled ourselves to a 12-7 victory. We could say that Figs won the game for us by letting time run out during his last at bat, but we won't because that was his best play of the night. Otto comes through at the plate again with two monstrous blasts over LF's head. Turner drove in 4 runs, two on one sacrifice fly. Imagine that. Marco hit a cut-off man which led to a put out at 3b. Gregg needs to be mentioned because he likes to be mentioned. And Miguel ran full speed to third base on a pop out to second base. The only problem was there was only one out. Major props to ponytail Doug for pitching us to victory. OK, it's math time. We were 5-1 and we won, so that makes us 6-1. Way to go Einsteins. Attendance was 2, counting Kowis. Kroboth apparently has given up on us as he wasn't there. The positive side to that was that he couldn't play. Doubleheader tonight. I'm out......
Wednesday, October 29,1997
50 minutes!!!! OK, it's not 36 minutes but it was the Renegades this time. Be proud all former Kru players who have been pounded by the Renegades for the past several years. The Kru run-ruled the Renegades 17-5. In addition, the Kru also won the first game of the evening. We avenged our only loss this season by beating the team that beat us, 18-something. That's right Kru fans. You do the math. Never mind, we'll help with the math. The record is at 5-1. Props to the top of the order who spanked the ball all night. Rookie, Doug, Flores, and Gregg all brought in enough runs so that the 3-headed monster "Wayne-Turner-Figs" could suck and nobody really noticed. Props to Otto for hitting the smash of the night over the Renegades' LF's head. He's still going back on that ball. More props to Otto and ponytail Doug for pitching in the nightcap after Pitcher got hurt. Attendance for the 1st game was 1 (way to go Neala!!). We can't count Kro because he split after the game started. Attendance for the 2nd game rocketed to 7 as Neala was joined by numerous Miguel and Marco groupies. Even Dan the ump was wondering what are all those girls doing here watching Miguel and Marco. That's all for this week. Three games next week unless it rains for forty days. That we be a shame if it happened to rain out the rest of the season and we finished 5-1 in 1st place. Hmmmmmm. Hey Salt Lake....be proud of your grasshopper (Otto). Rack it.
Wednesday, October 22,1997
36 Minutes!!!! That's how long it took the Kru to dispose of this weeks foe. Not since the Allied invasion on D-Day have we seen such a full frontal assault. The Kru batted around in each of the first two innings and scored 8 and 7 runs respectively on their way to 15-0 romp. There's not much else to say. They even got fancy in the field and started to make plays with their feet to end of the game. (Gregg, I told you I'd get you some ink.) Attendance was 3, counting James and Andre'. Otto went the distance even though he asked to come out of the game, we told him "no" , you don't want Kroboth to play do you??? Anyway, like----WOW!!! The record is now 3-1. Let's hope we saved some bats and gloves for the big doubleheader tomorrow night. Hey Salt Lake.....come back.
Wednesday, October 15,1997
SWOOOOOOSH!!!! If you didn't recognize that sound, it was the Kru flying by in the drivers seat on their way to cotton. They swept a doubleheader on the way to improving their record to 2-1. The Kru has beaten the Renegades!! I repeat---the Kru has beaten the Renegades!! Where does one start on such an epic evening? Led by Figs(who went 3 for 3, scored the winning run, and gunned a key runner at 3rd base to stymie an early Renegade rally(and who might be the author of this article)), the Kru rolled to an 11-7 assault on the Renegades, who were not their usual boisterous selves after becoming the Kru's humble servants on this nights. The second game was quite anticlimactic after the Renegade Romp, as the Kru rolled to a 12-3 romp of some other team. Kro could have made a managerial blunder as he benched Figs (yes, I said Figs) and Miguel in the second game. But the Kru responded like the heroes they have become and overcame the lack of 1B and left CF. Kowis deserves attention for his excellent pitching in both games. He also got 4 hits on the evening. But the real hero of the splendid night was Alan. I can't even begin to count the number of his monstrous hits or his swan-like catches. Just his presence alone inspired ordinary players to excel on this special night. Another key point many missed was that Alan went the distance in both games----thus keeping Kroboth on the bench where he cannot damage our chances of victory. Alan, if we could sing, this ones for you man: "Nobody does it better...." I don't know the rest of the words so that will have to do. Key games next week at 9:30 Wednesday and 8:30 and 9:30 on Thursday.
Wednesday, October 1,1997
The Kru was quite downtrodden after Wednesdays turn of events. The team was cruising with a 7-3 lead in the 5th inning. Being the first game of a new season and with the prospect of starting out 1-0, things may have gotten too festive in the dugout as complacency at the plate set in. The bats went cold and the gloves turned to stone. To sum it all up the Kru LOST 9-8 in 9 innings. Players were unavailable for comment after the game as the locker room was closed to reporters. Props to Kowis for throwing three innings of one-pitch and only giving up one run. The quote of the game came from Kowis himself. After scoring from second on a hit(WOW) he said "third base was just this white blur as he flew by it." And props to Figs for winning his company's golf tournament--which has nothing to do with softball--I just thought I'd mention it. The good news was Otto's conditioning has improved so Kro did not have to play. Attendance was 3, counting Kro of course. Welcome to the new rookie, Marco. Try not to pass any runners on the base paths. See ya next week. Doubleheader.
To submit Kru updates, or e-mail Hay Hauler click HERE!
----To e-mail Joe, 1st base, click HERE!!!!!